AKCO's diverse team of proven thought leaders are each dedicated to creating client-focused solutions in their area of expertise. Decades of comprehensive knowledge and experience in human resources/recruiting, and marketing, plus certification in specialized techniques, make it possible for us to build on our existing record of success. Collectively, we offer both value and innovation.

AKCO LLC is a member of the American Staffing Association, which promotes legal, ethical, and professional practices. ASA members account for 85% of U.S. staffing industry sales and operate some 14,000 offices throughout the nation. Find out more at
www.americanstaffing.net
.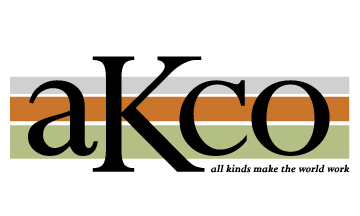 AKCO LLC CERTIFICATIONS

FEDERAL:

WOMAN-OWNED BUSINESS, SMALL DISADVANTAGED BUSINESS, MINORITY OWNED BUSINESS

BUSINESS:

MINORITY BUSINESS ENTERPRISE (MBE)

NAIS CODES:

541611 - 541612 - 541613 - 541840 - 561311 - 561312 - 561920


Targeted Solutions for Business, Government and the People They Employ